Gujarati cuisine is full of spicy and yummy snacks. If you are a connoisseur of Gujarati food, here is alist of top 10 lip-smacking famous dish of Gujarat. The Gujarati food ranks third most popular Indian cuisine after Punjabi and South Indian. The best thing about Gujju dishes is a yummy combination of sweet, spicy, and sour flavours.
Gujarati food consists of avariety of dishes like spongy Dhoklas, Dussherra special Fafdas, Spicy Undhiyu, and many more.
Best Gujarati Foods or Dishes
Check out the complete top 10 best Gujarati food dishes:
#1 Undhiyu
Undhiyu is a speciality cooked and served mainly on the day of kite festival known as Makar Sankranti. It is also an all-timegujarat'sfavourite foodand cooked in different ways. Undhiyu is prepared with a plethora of winter vegetables including raw banana, violet yam (Ratalu), stuffed eggplant, muthiya, surtipapdililva, tuverlilva (pigeon peas), and others. The basic flavour is spicy. It is also cooked in earthen vessel.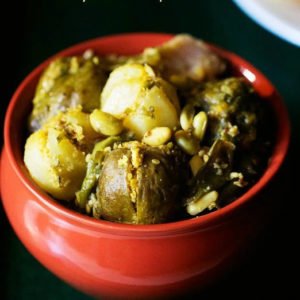 #2 Spongy Khaman
Khaman is a yummy and appealing yellow coloured steamed Gujarati Dish. It is prepared with ground gram flour or besan. It is steamed and further tempered with mustard seeds. The dish is extremely fluffy and garnished with coriander leaves and green chillies.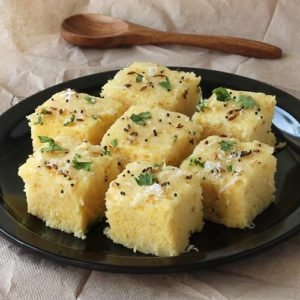 #3 Thepla
Gujju picnics are just incomplete if theplas are not packed for biting. Theplas are top favourite snack even for business trips and foreign tours. The dish is a spicy flat bread prepared from whole wheat flour kneaded with spices, sesame seeds, and fresh cut fenugreek or methi leaves.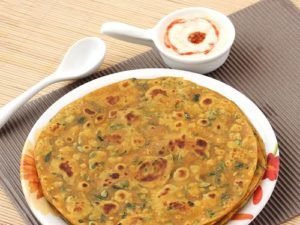 #4 Dhokla
Yet another steamed Gujarati snack that is very delicious. Likewise khaman, dhoklas are also prepared from fermented food. A mix of fermented and crushed dal and rice are steamed first. The dhoklas are tempered with curry leaves and mustard seeds. Different varieties of dhoklas are sandwich dhokla or plain dhokla. Dhoklas are consumed with green chutney of coriander and mint.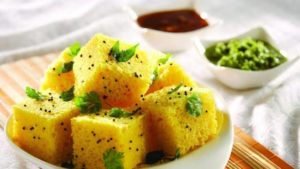 #5 Khandvi
Khandvi is also a snack time item made with rolls of gram flour. The gram flour is boiled and flattened. Small portions are rolled and tempered and garnished with mustard seeds, shredded coconut, coriander leaves, and cut green chillies.
#6 Fafda
Fafda is a popular street food in Gujarat. It is also a special dish to have on Dussherra in combination with Jalebi. Besan flour is kneaded and cut into long strips for deep frying. It is served hot with chutney of besan and shredded raw papaya.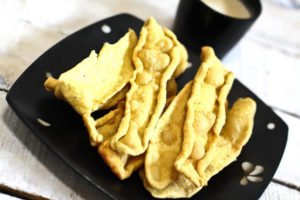 #7 Handvo
Handvo is a very delicious Gujarati dish prepared using avariety of spices. Different types of pulses and rice are used to make a coarse flour. It is fermented and cooked using steaming method. A shredded bottle gourd is also added to the fermented mix. Before cooking it is tempered with spices like asafoetida, sesame seeds, and mustard seeds. All the traditional spices and lemon are used for flavouring.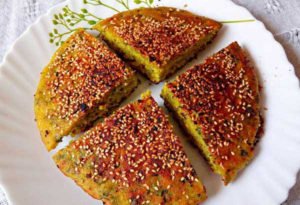 #8 SevKhamani
SevKhamani is an irresistible Gujarati snack from Surat of South Gujarat. It is made from the soaked chanaldaal(gram lentils) that is grinded coarsely. It is tempered with mustard seeds. Lemon juice and sugar are added tobring sweet and sour tempting flavour. It is served with green chutney and crunchy sev.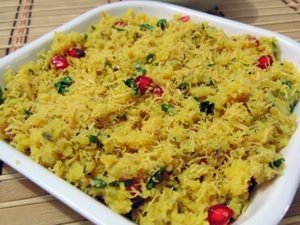 #9 Khichu (Papdi No Lot)
Khichu is a spicy snack prepared from boiled rice flour. Further seasoned with a tinge of oil and minutely cut green chillies or red chillies.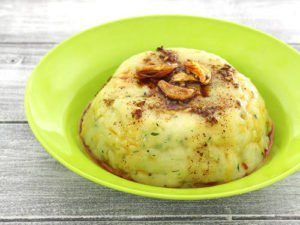 #10 Gujarati Kadhi
Kadhi is a famous Gujarati gravy often served with rice. Kadhi is an integral food item in any Gujarati Thali. It is made with curd, little gram flour, and tempered with Jira, curry leaves, and long cut green chillies. Sugar is added for a tangy sweet and sour taste. It is extremely simple and quick recipe.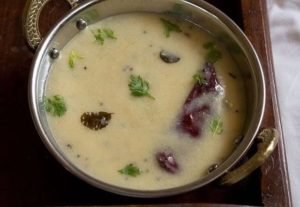 Gujarati Cuisine has other mouth-watering dishes like Muthiya, Sev-Tomato vegetable dish, and Dal Dhokli. If you are looking for traditional gujarati dishes list then your search ends here! Stay with Buzz9studio for more updates on food, fashion, and style of India.