Car rental services are a booming industry owing to the rise of modern businesses in India. In simple terms, a car rental service operates by providing vehicles on rent for people, corporations, and hotels etc. who are in need of transportation services. Often professional companies would provide other services aside renting out their vehicles, like personal chauffeurs to drive you to your destination or tour packages for tourist who can book these services and travel to pre-design tours.
Ahmedabad is a bustling city and the need for transportation is a growing demand. However the amount of car rental services that operate within the city can leave one confused, here we have narrowed down the top 5 car rental companies in Ahmedabad for your convenience.
List of Best 5 Car Rental Companies in Ahmedabad
#1. Shifa Travels
Phone: +91-9998885559
Email: info@shifatravels.in
Address: 505, Classic Apartment Opp. Royal Akbar Tower, Sarkhej Rd, Quresh Nagar Society, Ahmedabad – 380051

Website: https://www.shifatravels.in/
Operating in 98 cities across 29 states. Shifa Travels is a renowned car rental company in Ahmedabad. Since its inception ten years ago, Shifa Travels has been offering clients with quality taxi service for local and outstation rides as well as rental services for those looking into renting cars for their own purposes. Allowing customers to pre-book their rides before hand and a large variety of vehicle choice. You are guaranteed to find a ride within your price and budget. Shifa Travels services are very flexible and provide customers independence while travelling which on a public transport is limited.
#2. Clearcabs

Phone: +91-8200484246
Email: booking@clearcabs.com
Address: 24/2 Shastrinagar Shopping center, Shastrinagar, Naranpura, Ahmedabad – 380013
Website: https://www.clearcabs.com/
If you are looking into renting a vehicle, you might want to give Clearcabs a try. One of the best self-drive car rental services in Ahmedabad, they also provide chauffer's for those that require it as well as luxurious transport for those who seek the ultimate transport bliss. With a professional team of well trained and experienced chauffeurs. Clear cabs provide customers with very little to complain in terms of quality of service. They also provide additional services like taxi tours, address pickups, airport transfers and railway station pick-up and drop.
#3. Sai Travels Ahmedabad

Phone: +91-97144 39889
Email: contact@saitravelsahmedabad.Com
Address: Anand Nagar Flats, Akhbar Nagar, Nava Vadaj, Ahmedabad – 380015
Website: https://saitravelsahmedabad.com/
One of the taxi service in ahmedabad. Sai Travels is widely known for its professionalism and years of experience in the field of transportation. You are guaranteed a seamless and smooth experience when hiring Sai Travels Taxi for your transportation needs. An industry standard, Sai Travels provides customers also with packages for tours and hotels along with their transportation. It is a well-connected organisation specialise in making tourist and traveler at ease during their stay in Ahmedabad whether that be for business purposes or casual tourism.
#4. Dial Cabs

Phone: +91-8000008103
Email: info@dialcabs.com
Address: 201, Sarjan-2, Above Punjab National Bank, New C.G. Road, Chandkheda, Ahmedabad – 382424
Website: http://www.dialcabs.com/
An old Favourite, Dial cabs has been providing many customers with their transportation needs over several years. With a wide range of vehicles in their possession, customers can book from an AC coach to luxury cars like the BMW-7 Series with AC/Non AC variants. All priced differently according to your destination and required time. With special tour packages for tourists. They also provide their vehicles for corporate leasing. Dial cabs has now grown to become one of the best car rental in Ahmedabad.
#5. Akshar Tours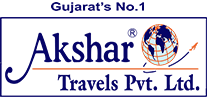 Phone: 9978603453, 1800-233-9008
Email: transport@akshartours.com
Address: 9, City Centre, 2nd Floor, Swastik Cross Road, C. G. Road, Ahmedabad – 380009
Website: https://www.akshartours.com/
With a loyal following of customers. Akshar tours have become one of the leading car rental companies in Ahmedabad. Established in 1997, Akshar Tours is a professional car and rental service with ties in up to 52 cities in the country. They have serve a large clientele ranging from Top MNC's to Luxury hotels etc. they provide a wide range of services form taxi tour booking services, airport pick up and drop service, to providing customers rental cars for those who wish to drive themselves. Akshar Tours promises customers with an affordable, safe and hassle free service and their rates are well designed to reflect those.
Do take a look at their websites and pick the one that matches your requirements.
Also Read our 2nd Ahmedabad Blog – Top 5 Interior Design Companies in Ahmedabad