About Roopkund Trek
Roopkund is also known as Mystery Lake and Skeletons Lake. This glacial lake is one of the most popular trekking spots for the tourists in the Himalayas. If you are a passionate mountaineer, Trek has a lot to offer. It is a small and swallow lake with around 2 meters depth. It remains under the layer of snow for almost 8 months.
Roopkund is a lake located in the Nanda Devi in Uttarakhand. The Roopkund lake is located at the height of 15500 feet. If you don't mind venturing tricky climbing, you can even climb Junragali Ridge which is further 750 feet up than Roopkund. What attracts tourists is the sheer beauty of snow-laden mountains, alpine meadows, forests, and mysterious human skeletons in the water of this lake.
When to Visit Roopkund Trek?
Before you plan your trekking adventure, it is the best thing to know the correct timings. The Himalayas are harsh during certain months of the year. Hence, this post guides you to decide when to visit Roopkund Lake.
As per the experienced mountaineers and locales, Roopkund can trek safely twice in a year. First right time is in May-June before the monsoon starts. The second best time is August-September – October after the monsoon rains are receded.
May – June
If you visit Roopkund trek during May-June, you will see it transformed into a frozen trek. However, due to snow, one cannot see the skeletons under the water. Due to summer in India, May and June are rather less cold here. The weather is windy and bit unpredictable. The lake remains in frozen condition, especially the higher camps. If you are fond of venturing out into a difficult kind of trekking on a frozen lake, this is the best time.
August – September – October
Roopkund experiences monsoon in July month. Once the monsoon is over, the place starts attracting tourists. During August and September, there is no snow and hence the lake is not in a frozen condition. The weather is mostly clear and the skeletons in the lake are visible. If you want to visit the lake in with less difficult trekking, this is the best time. The weather is a bit cold compared to May and June.
The weather turns bit cooler towards the end of September and you will start finding snow on the roopkund trek. Gradually in October, the lake starts getting frozen.
How to Reach Ropkund Trek in the Himalayas
Roopkund is quite a remote region and difficult to travel. Once can reach either by train or flight or by road.
If you prefer to travel by road, you can start from Delhi and follow the route to reach Debal. It takes 3 days trekking from Debal to reach roopkund. It takes around 13 minutes road journey from Delhi to Debal.
The nearest railways station available is Rishikesh. Road transport is available from Rishikesh to Karnaprayag and Debal.
The nearest airport is Dehradun's airport. Further, you can travel by road to Debal after which the trek begins. It is always advisable to keep a porter and a guide during the journey.
Other Information about Roopkund Trek
Region : Uttarakhand
Roopkund Trek Difficulty : Moderate
Highest Altitude : 15,750 ft
Roopkund Temperature : Day – 13-18°C | Night – 0-7°C
Roopkund Trek Map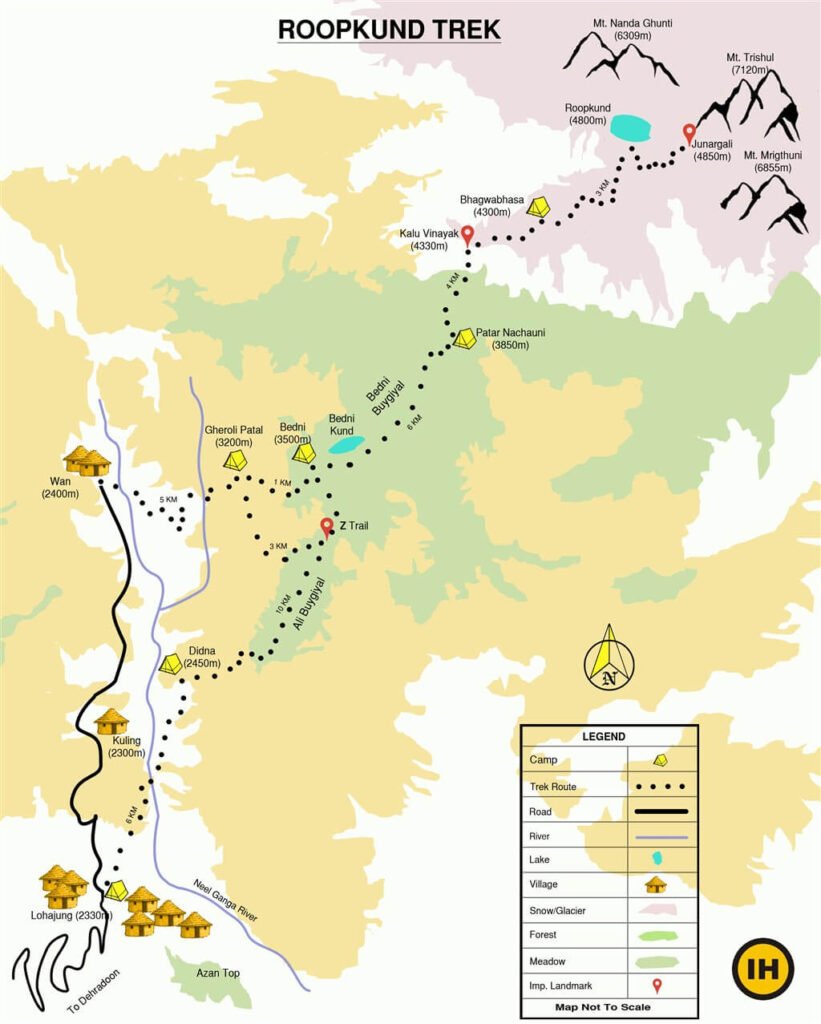 Source: https://indiahikes.com/roopkund/roopkund-trek-map-1024-x-1277/
Roopkund Trek Cost
Roopkund Trekking Average Cost is 10,000 to 15,000 INR.
If you are searching for Roopkund trek best time to visit / Height, Map and Location then this Blog is Very Helpful for You!
Keep visiting our travel section to find information on the best tourist spots of India. Buzz9studio also covers latest updates on lifestyle, fashion, food, and technology.